Posted on 19 January, 2014 in Tours
Darwin Harbour Sunset Cruises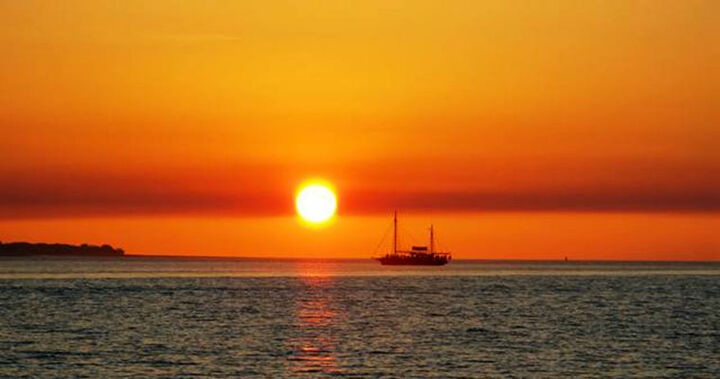 Do Darwin: Do Darwin Harbour Sunset Cruises
Providing opportunities to unwind, relax and enjoy that famous sunset, Stokes Hill Wharf has a range of Darwin Harbour sunset cruises to choose from, with variety to suit every age, budget and inclination. Sea Darwin offers two unique eco cruises, one an affordable unique dinner cruise with fish'n chips and champagne as the sunsets on Darwin Harbour, and the other a sunset eco cruise to see the nesting flatback turtles on Bare Sand Island. If neither of these cruises suit you, then there is an array of others to choose from:
Sea Darwin: Sunset Fish and Chips
5.45PM – 7.15 PM ($55 ADULT; $40 CHILD $170 FAMILY)
The most affordable and unique sunset dinner cruise available in Darwin. Experience the famous Top End sun set over Fannie Bay on this Darwin Harbour sunset cruise with a difference. Leaving Stokes Hill wharf at 1745 hours a fast boat ride will take you past the sights and sounds of Darwin city seascape to arrive at Cullen Bay Beach* where you will pick up your fish'n chips. Eat your dinner accompanied by a glass of bubbly, the warm wind, an exquisite tropical sunset and a harbour full of intrigue, as you causally cruise around to find the best position for your Darwin Harbour sunset photo. A perfect end to the day for spirited travellers, families and and those who want a value experience. Cruises are conducted on the fully licenced vessel Snubfin. View tour
Sea Darwin: Turtle Tracks
4PM – APPROX 11.30 PM ($230 ADULT; $155 CHILD) MAY TO OCTOBER
Darwin's only sunset cruise to visit the nesting turtles at Bare Sand Island. Leaving Darwin at 4pm at a date especially picked around the lunar cycle, this fast boat adventure takes you to a remote Top End island which is rich with history and one of Australia's most significant nesting grounds for the flatback turtle. Cruise price includes dinner and drink. View tour
Sailing Adventures NT
SUNSET CRUISE 3 HOURS. ($70 ADULT; $45CHILD; $60 CONCESSION)
Set Sail for the Sunset. Enjoy both the exhilaration and the serenity of sailing around Darwin Harbour aboard a modern and comfortable 10m sailing catamaran, Daymirri 2. This cruise takes in the last of the afternoon light, followed by the glorious sunset over the tropical northern waters. A maximum of 12 passengers allows the sail to be luxurious and personalised. BYO, ice and glasses supplied. Price inclusive of generous nibbles and refreshments. www.sailnt.com.au
Spirit of Darwin
5.45 – 8.15PM ($65 ADULT; $20 CHILD)
A sunset cruise aboard this 19 metre super cat includes a complimentary drink on boarding, (sparkling wine, wine, basic beer or soft drink) and a taste plate of seasonal local produce. Vessel is fully licenced. www.spiritofdarwin.com.au
Darwin Harbour Cruises
Darwin Harbour Cruises has a choice of two vessels for your sunset experience. A Tastes of the Territory' Sunset Cruise aboard the 'Tumlaren', a 20 metre steel schooner rigged vessel, leaves Stokes Hill at 5.15pm for a 2.5 hour cruise ($70 adult $45 child) and includes a glass of sparkling wine and gourmet Territorian style tasting platters.
Aboard the Charles Darwin, a steel-hulled tri-deck catamaran, there is a choice of sunset cruising options. This cruise leaves Stokes Hill at 6pm a 2.5 hour cruise only package ($55 adult; $35 child) is offered with food and beverage available for purchase on board. The Charles Darwin Sunset Buffet Dinner Cruise leaves at the same time ($89 adult; $82 senior; $65 child). Fully licenced vessel. www.darwinharbourcruises.com.au
Cape Adieu
5.20PM – 8.00PM ($96 ADULTS; $90 SENIORS; $50 CHILD)
With a reputation of being the best dinner cruise on Darwin Harbour, this sunset cruise is on a 21 metre ex fishing vessel. Cape Adieu is owned and operated by professional fisherman, which ensures that only the best seafood is served. Vessel is fully licenced or BYO, with ice, glass and eskies provide, and the three course dinner includes delicious Chef prepared steak and a wild caught seafood banquet. http://www.capeadieu.com.au
Darwin Sunset Sailing
($70 ADULT; $50 CHILD)
Aboard the 1948 timber vessel Amber, which features an on board outdoor cinema, this vessel is available for charter for a maximum of 11 person. www.darwinsunsetsailing.com