Posted on 12 September, 2019
Tropical Light "Unplugged" Sunset + Twilight Cruise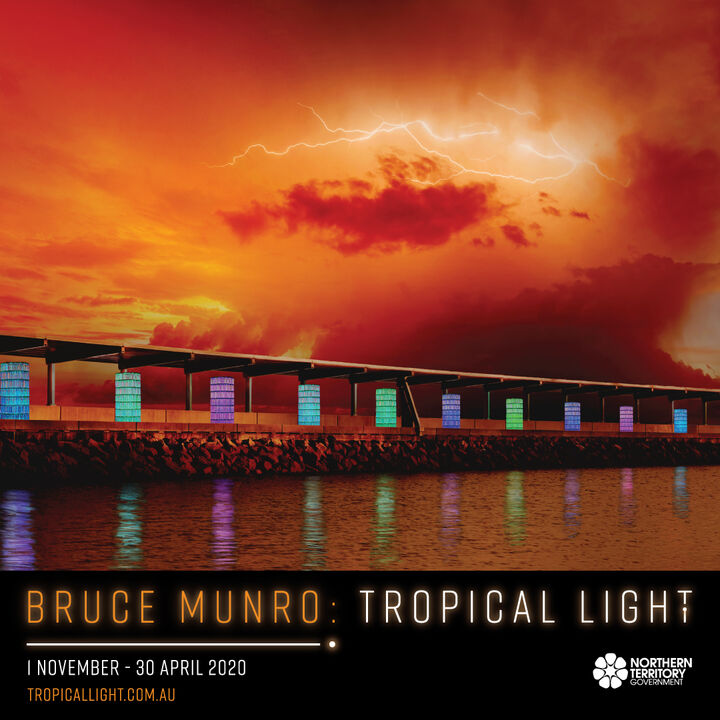 'Bruce Munro: Tropical Light' is an outdoor exhibition featuring 8 site specific works installed across Darwin's city park spaces. The works, created by Bruce Munro, are a collection of illuminated sculptures which reflect the artist' personal history of visiting Australia and the Northern Territory. The theme of the exhibition is 'Darwin' and the 'Tropical Summer' with additional visual artwork contributions from Darwin artists. The exhibition is connected by a self-guided path to wander along with each piece intended to inspire interest during the day and hold special significance when illuminated at night.
The Exhibition runs between 1 November 2019 - 30 April 2020, and for Sea Darwin we are adding water to the Tropical Light experience and encouraging people to start their evening in Darwin with mother nature's best free light show.
This is tropical light unplugged, a short sunset and twilight cruise on Darwin Harbour during the tropical summer season when the sky is stretched with colour catching storm clouds, multi-hued sunsets and a peppering of electrical light shows. This is a time of year when there is an abundance of natural beauty on the harbour, with magnificent storms clouds rolling by, legendary for the speed they move and the spectacular light shows they bring.
This 45-minute cruise is for those with a love of the extraordinary. Board your vessel 15 minutes before sunset for a fast ride out on the harbour to catch the last rays of the setting tropical summer sun. Expect dark, moody, orange, or yellow illuminated rays in the sky. And then, as twilight awakens, expect the colours to stretch the sky and intensify. Your local crew will then take you to the back of the harbour to a thriving landscape of trees in the sea, where birds find sanctuary at the end of the day, and where natures embrace has a backdrop of Darwin city reflecting twilight's mood.
As you return to Kitchener Bay you will be greeted with a stunning exhibition of plugged Tropical Light, as the Darwin Waterfront seawall is transformed with Bruce Munro's Water Tower sculptures. These towers of stacked recyclable water bottles are illuminated by optical fibre, like enormous liquid batteries of light. They pay homage to the humble water tower, found in every outback town in the Northern Territory.
Disembark at Stokes Hill Wharf in a perfect location to stroll through the waterfront precinct to the city to experience the complete Bruce Munro Tropical Light exhibition.