Posted on 03 October, 2021
GOURMET FOOD TOUR AND CRUISE!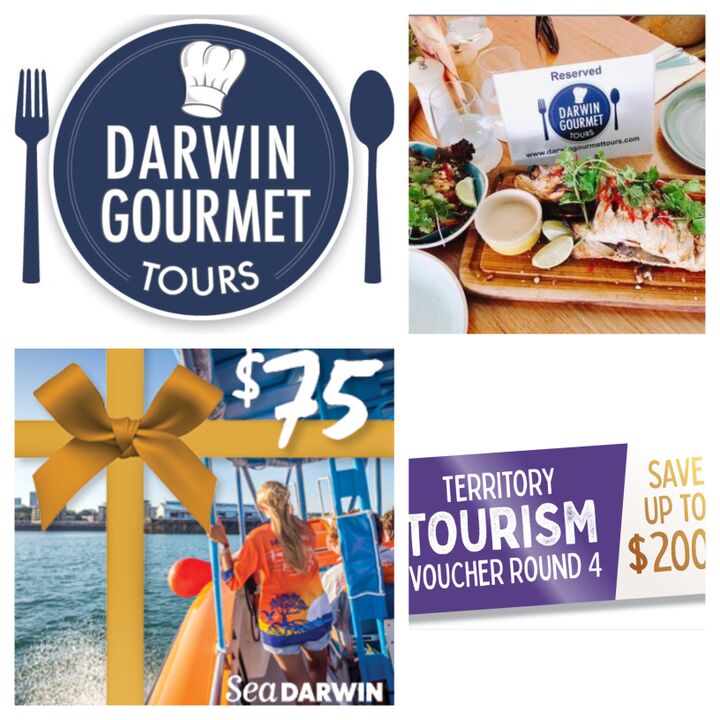 ---
Tourism Voucher Round 4: Gourmet Food Tour and $75 Sea Darwin cruise voucher.
A little bit of gourmet fare, a little bit of seafare, and a lot of sharing the voucher love! This food and cruise option benefits 5 local darwin businesses, and at $200 neat, it is the perfect voucher fit.
Let's start by booking some gourmet fare!
Do you love great food? Well, if the answer is yes then Darwin Gourmet Tours can help. Darwin Gourmet Tours are easy walking tours which showcase some of Darwin's best restaurants. You'll visit three different venues, and you'll get a large variety of tasty food in a degustation menu and chefs or staff will often chat about their creations. There's lots to eat and they cater to vegetarian and gluten-free diets too. Along the way you'll visit street art with augmented reality and historical sites too. You can choose to do either the lunch or dinner tour:
3-Hour Gourmet

Lunch Tours:

Join your guide for Darwin's best food in an escorted three-hour walking tour. Chefs present tasting plates (degustation) with an emphasis on local produce and Aboriginal bush foods. Visit cultural and historic landmarks and a rotating roster of restaurants which may include an assortment of any of these: Phat Mango, Little Miss Korea, PepperBerry Restaurant at the Hilton, Ruby Vietnamese, Moorish, Aboriginal Bush Traders, Bannsang, Snapper Rocks, Chow, and others.
3-Hour Gourmet

Dinner Tours:

Let your taste buds explore the rich culinary heritage of Darwin on the guided gourmet dinner tour. Tasting plates (degustation) feature local ingredients and Aboriginal bush foods to delight the most seasoned gourmand. The tours stop at cultural and historic landmarks and visits three restaurants that could include any of these: Snapper Rocks, Chow, Phat Mango, PepperBerry Restaurant at the Hilton, Little Miss Korea, Moorish, Hanuman and more.
Once you've booked your gourmet fare date, then expect to have your sea fare voucher delivered!
To complete the package Sea Darwin has partnered with Gourmet Food Tours to provide a $75 voucher, redeemable on any Sea Darwin cruise product up until 31 January 2022. Your Sea Darwin voucher will be delivered by email, and will include a code to use when booking your cruise option. Choose from our post covid discounted range of day time or evening cruises, or any one of Sea Darwin's live like a local events. Sea Darwin's booking system has the full range, a sample includes:
The Sea Darwin $75 voucher is not redeemable for cash, no change will be given and it needs to be used by the end of voucher round.
The gourmet fare and sea fare package is only available for sale through Tourism Top End. It is fantastic value at $200 neat - a saving of $24, and with a tourism voucher the payment required will be only $100. The best part of all, is that the package benefits 5 local businesses - that's Darwin Gourmet Tours, Sea Darwin, and three local restaurants. Not forgetting that TTE take their commission as well, so its a win, win, win, win, win and win, and what the Tourism Vouchers are all about. All other Sea Darwin post covid discounted range of day time or evening cruises can be booked directly through our website on the links above.